This week, the Digital Humanities and Asian American Studies Departments will be hosting a series of events regarding race, technology, and critical studies. 
ON THURSDAY, February 23rd in Carson L02 at 4:30pm, Lisa Nakamura, interdisciplinary scholar of race, gender, new media and cinema, and critical / cultural studies, will be gracing us with her presence with a talk titled "Trash Talk: Instrumental Racism as a Procedural Strategy in Online Games."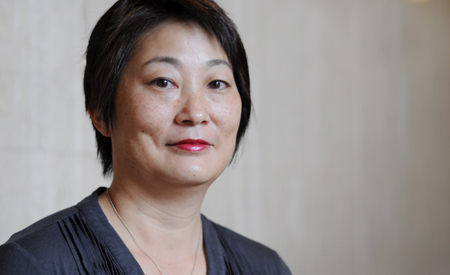 Nakamura is the Director of the Asian American Studies Program, Professor in the Institute of Communication Research and Media and Cinema Studies Department and Professor of Asian American Studies at the University of Illinois, Urbana-Champaign. She is the author of Digitizing Race: Visual Cultures of the Internet, Cybertypes: Race, Ethnicity, and Identity on the Internet and a co-editor of Race in Cyberspace and Race After the Internet.  She is currently working on a new monograph tentatively entitled Workers Without Bodies: Towards a Theory of Race and Digital Labor in Virtual Worlds.
And then… ON FRIDAY, February 24th in Haldeman 041 at 2:30pm, Lisa Nakamura will moderate a panel titled "ROBOT SKIN: The Consumption of Race in Technoscience" with panelists Thuy Linh Tu, Minh-ha Pham, and Dartmouth's own Aimee Bahng.
Thuy Linh Nguyen Tu is Associate Professor in the Department of Social and Cultural Analysis at NYU, where she is also the director of the American Studies Program. She is the author of The Beautiful Generation: Asian Americans and the Cultural Economy of Asian Chic and co-editor of Alien Encounters: Popular Culture in Asian America and Technicolor: Race, Technology, and Everyday Life. She is currently conducting research on the uses of science in the multinational cosmetics industry.
Minh-Ha T. Pham is an Assistant Professor in the History of Art & Visual Studies Department and the Asian American Studies Program at Cornell University. Broadly, her research traces the historical relations of art, society, and technology through fashion.
Aimee Bahng is an Assistant Professor of English at Dartmouth College. Her book manuscript, "Speculative Acts: Science and Fiction in an Age of Finance Capitalism" examines cultural narratives of futurity, including but not limited to financial discourses of security and risk as well as speculative fiction by North American women of color. Her research delves within the domains of Transnational Asian American Studies, Speculative/Science Fiction, Gender and Sexuality Studies, Feminist Science and Technology Studies, Cinema Studies and Film Theory, Comparative Studies of Race, and Critical Studies of Globalization, Labor, and Empire.