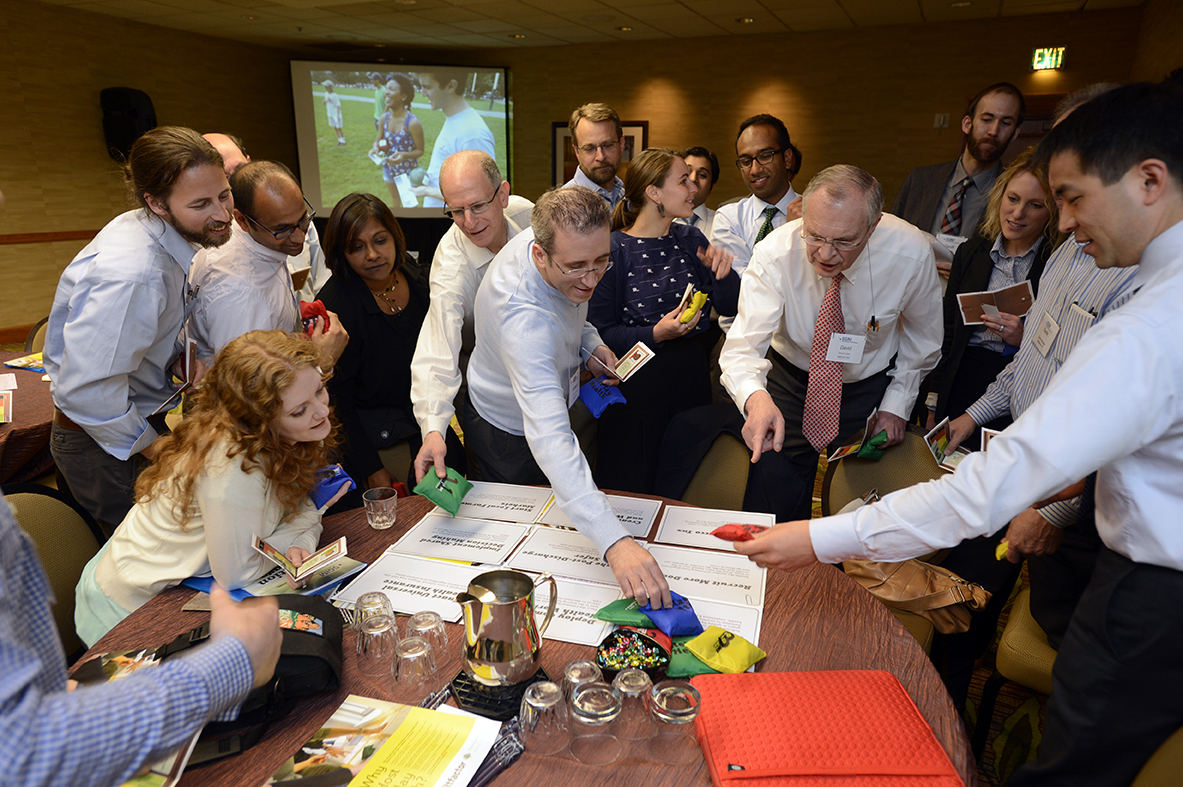 New research at the Tiltfactor Game Research Laboratory at Dartmouth College indicates that people's thinking about public health policies and spending priorities can be shifted through a novel new game genre–role playing sports.
A key challenge in public health in the United States is lowering costs by focusing on health priorities. Often, these priorities are discovered by complex visualizations and in-depth workshops such as those sponsored by Robert Wood Johnson Foundation's Aligning Forces for Quality initiative. Research groups across the country have taken a variety of approaches to rethinking health spending, for example. ReThink Health, an initiative from The Rippel Foundation, offers a robust dynamic modeling system for testing and visualizing scenarios and changes to the whole US health system.
But many of these systems are large, complex, and lack the experiential qualities that might help people — from medical students to doctors, from local council leaders to government officials– digest the issues and find ideas that resonate. Tiltfactor developed RePlay Health in collaboration with The Dartmouth Center for Healthcare Delivery Science and the Rippel Foundation.
In the game, players take on the role of various community members and get to redesign their health care system while they go through their "daily grind" earning an in-game income and facing possible illness based on their personal risk factors. In data collected a week later, the team saw significant results emerge that showed a more lasting impact on player's perceptions.
Interestingly, only the active players — and not spectators or those watching the game play out– reported significantly higher priorities after playing the game in health-related policies and practices. This means that players learned the value of things like environmental factors related to health, such as air quality, or access to healthy groceries. Players, and again, not game spectators, noted that environmental health risks and systemic health system failures caused more health challenges as well.
One of the exciting outcomes of this study is RePlay Health's ability to help players conceptualize how new health initiatives might affect them and their respective communities.  "The results of the study validate the rationale behind the design of the game–to make a playable, experiential sport from a fairly complex computer simulation–and show how active engagement with the game's characters and events were crucial to the game's ability to shift players' mindsets and attitudes about health and health policy," commented Geoff Kaufman, Tiltfactor's Post-Doctoral Researcher in psychology. "I was pleased to learn that there are lasting effects," noted Mary Flanagan, the lab's founder. "The games for health movement is an exciting new domain for exploration and innovation, and we're thrilled contribute new knowledge in this arena."
RePlay Health shows us that games as embodied experiences allow perspective taking, fictional engagement, and roleplaying, and these unconventional communication modes can significantly impact thinking on public health. 
We're thrilled to share this exciting news, which marks a new milestone in our teams' successful collaboration on this project. Thanks to the Rippel Foundation and to The Dartmouth Center for Health Care Delivery Science for their support (and play)!
The game is free to download, print, and play with your own institution or group. Read about the game on Science Daily or check out the paper if you have access to the Games for Health Journal. The paper, "RePlay Health: An Experiential Role-playing Sport for Modeling Health Care Decisions, Policies, and Outcomes," is published in Games for Health Journal: Research, Development, and Clinical Applications (2015).
URLS: http://www.replayhealth.com, https://tiltfactor.org
Keywords: public health, games for health, role playing