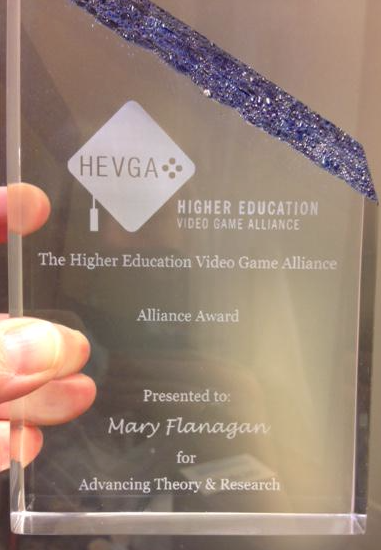 Mary Flanagan was recognized by the newly formed Higher Education Video Game Alliance (The Alliance, or HEVGA) in their first annual awards program last week.
(Read the Alliance Press Release.)  The Alliance was created by higher education leaders from across the country who share best practices, build partnerships and help universities strengthen their video game education programs.
The Alliance selected Flanagan for her work in "Advancing Theory and Research," breaking ground in both conceptual and methodological domains in the investigation of games.
Flanagan was recognized for her innovative approach as an "academic trailblazer" and "intellectual architect."
The Alliance noted that "Flanagan is changing the way the industry thinks about and studies video games as an interactive medium and is shaping the current landscape game-related academics across departments and fields." Other awardees from The Alliance include James Gee, a professor at Arizona State University, and Suzanne Seggerman, co-founder of Games for Change.
Learn more at: www.HigherEdGames.org or follow The Alliance on Twitter: @HigherEdGames.