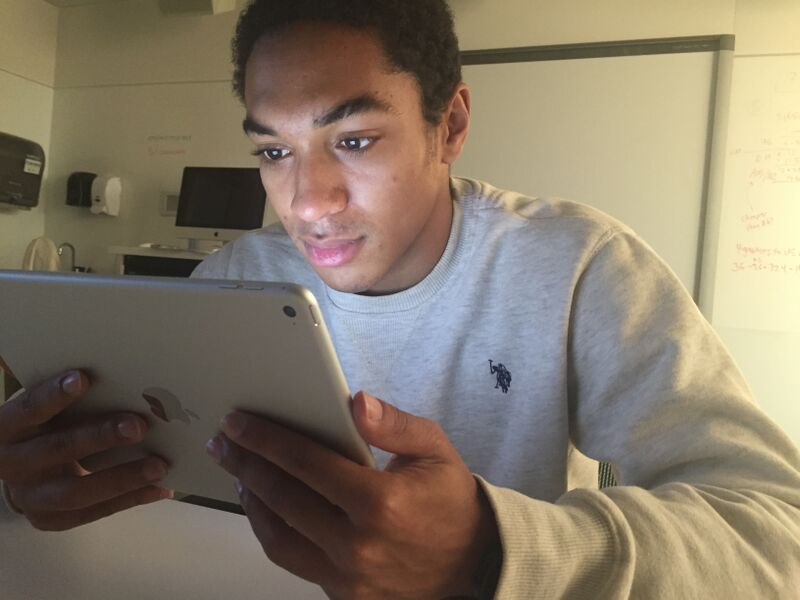 Tiltfactor: Hey Nick! Can you tell us a little bit about yourself and the work that you are doing in the Tiltfactor lab?
Nick: I am a Dartmouth '21 and I have been working at Tiltfactor since fall of this year. Currently, I work as a Tiltfactor Fellow. My role is similar to that of a lab intern, but I'll be working more closely with Max and Mary to develop new games this term. My background is in computer science and graphic design, so I mostly contribute to the coding and 3D modeling required for making some of our games. Right now, I'm working on a couple of different projects: a phone game code-named Potions and a new virtual reality puzzle game code-named Entangled.
Here are a few pictures of the the virtual reality puzzle game, Entangled, from different perspectives.
ENTANGLED IN 3D
ENTANGLED IN VR
KHEVNA PLAYING ENTANGLED
Tiltfactor: What is a significant obstacle that you have faced while working on a project, and how were you able to resolve it?
Nick: The most significant obstacles I've faced are usually code-related and those can generally be fixed with more code (haha)! But also, we at Tiltfactor focus on the impact of our games as well as how fun they are, so another problem we sometimes run into is focusing too much on fun mechanics rather than underlying and meaningful social change mechanisms. To fix this, we basically take a step back and look at what we were initially trying to do and shape what we have back towards that path.
Tiltfactor: What would you say is your favorite part about working in the lab?
Nick: My favorite part about working in the lab is definitely the easygoing atmosphere. Everyone here is a friend, and even when the work that I'm doing can be stressful, I'm never stressed out about simply going to the lab. The work we do here is super fun! And super important! If you see an ad for playtesting a video game, please come! It's probably us and knowing us, we could definitely use participants. Thanks!